Schools can register for optional eAssessment in all other elements of the programme – with students earning a formal, internationally-recognized certificate if they meet the success criteria.
MYP eAssessment is a reliable, globally consistent and highly innovative assessment model that helps achieve greater student outcomes and provides greater quality assurance and recognition for International Baccalaureate® (IB) World Schools.
How eAssessment works
Once a school registers for eAssessment in the MYP, the IB will be able to assess students' work in two ways:
ePortfolios of coursework, including a compulsory ePortfolio for the personal project.
On-screen examinations, with each exam lasting two hours.
The graphic below shows how these two types of assessment are divided across the MYP's different subject groups.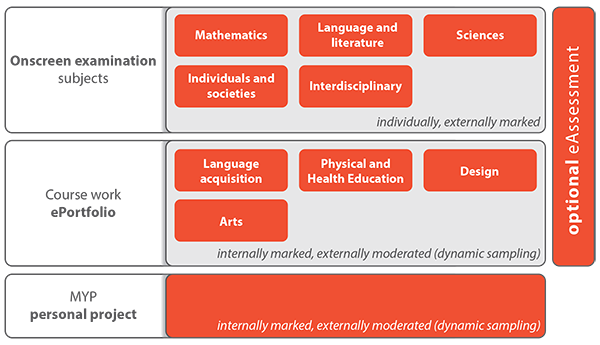 On-screen examinations
To ensure that on-screen examinations are rich and authentic, media and interactive functions are used to engage students. On-screen tools include:
Drag and drop; cut and paste; copy and paste
Play, pause and replay video and animations
Interaction with animations and simulations
The ability to plot  graphs and draw lines and pictures
On-screen (graphing) calculator(s).
The following subjects are offered in English:
Language and literature
Geography
History
Integrated humanities
Biology
Chemistry
Physics
Integrated sciences
Mathematics
Extended mathematics
Interdisciplinary learning
Benefits of eAssessment 
Through eAssessment, students will enjoy a richer experience during their final years of MYP study, as their teachers will have access to a greater range of contemporary stimulus material and media content for questioning and discussion.
Through the use of technology and the focus on deeper levels of understanding, the examination process will be an engaging, positive experience for students, while ePortfolios provide a stimulating and structured final unit of study.  eAssessment will therefore be an appropriate and natural culmination of a student's time in the Middle Years Programme (MYP).
eAssessment will provide a rigorous and standardized summative assessment to motivate teaching and learning. It is perfect for schools and parents who need external verification of student achievement, or for school districts to measure programme impact.
Why register?
With eAssessment, schools have the opportunity to consider students' learning against clear standards of achievement for this age group. In turn, this will inform teaching practice. Still further, schools and school districts can use the results of eAssessment to easily create in-depth and meaningful school improvement plans.
The MYP interdisciplinary learning examination is the only examination for students aged 15 and 16 that assesses interdisciplinary understanding– giving students the ability to learn to make connections between different areas of knowledge.
For MYP students, eAssessments provide a global recognition of expertise, hard work and personal achievement. In addition, they will help students understand the demands of the Diploma Programme (DP) and will allow them to use the results and grades as feedback on their learning and as guidance for future subject selection in the DP. Furthermore, teachers and schools can use this feedback to determine any gaps in knowledge or teaching and adjust accordingly.
Preparing for eAssessment
In each assessment session, the chosen global context informs all MYP on-screen examinations and ePortfolio tasks. Six months before the examination session the global context is announced to allow teachers to incorporate this context into their final unit of study.
The global context is the focus for the interdisciplinary learning on-screen examination. To facilitate a deep analysis of the global context, and to provide a focus for the interdisciplinary learning on-screen examination, pre-release material will be published on the OCC six weeks before the examinations.
The pre-release material comprises carefully selected multimedia stimuli and/or case studies. Through the pre-release material, students can engage with the global context and prepare for the examinations by making connections with what they have studied in MYP subject groups and their own individual learning.
Preparation for using the technology is facilitated with the purpose built familiarization activity, available on the online curriculum center (OCC). This allows students to practice using the various tools, pallets and canvass types that are found in the examination. This activity is designed to help students learn how to use the system in an intuitive, natural way but without the extra cognitive burden of academic demand so students can learn to express themselves without difficulty in the examination.
Once familiarized with the electronic environment, a full range of specimen examinations are also available on the OCC which allows students to familiarize themselves with both the academic and technical aspects of each of examination. These can also be used alongside the examination blueprint and other information presented in the MYP Guide to eAssessment to help teachers plan MYP5 so that students are ready for eAssessment.
Grading and awards
Candidates for the internationally-recognized IB Middle Years Programme (MYP) certificate must complete eight eAssessments. There are:
on-screen examinations in:
Mathematics
Language and literature
Sciences
Individuals and societies
Interdisciplinary learning
ePortfolios (coursework) in:
Language acquisition
Physical and health education, arts, or design
 MYP Personal project
Candidates also must meet school requirements for participation in community service (service as action). Students receive IB MYP course results for each component completed.
How do students achieve the MYP certificate?
The maximum total score for the IB MYP certificate is 56, with a grade from 1-7 assigned to each required eAssessment. Students must achieve a total of at least 28 points, with a grade of '3' or higher in each eAssessment component, to be eligible to receive the IB MYP certificate. For students who complete more than one eAssessment for each required or selected subject group, the highest available grade for that requirement contributes to the certificate total.